Description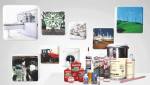 Nowadays, if you want to create added value, an excellent product portfolio simply is not good enough. You need a
partner who understands your business and your products, who develops new production techniques, optimizes your
processes together with you and designs tailor-made system solutions.
Download the Henkel Loctite Product Selector guide to help you determine what product is the best fit for your application. If you need any assistance please feel free to reach out by sending us an email: karl.p@shopinpart.com or contacting us through our facebook page https://www.facebook.com/shopinpart/ or via messenger. We're always happy to help.