Description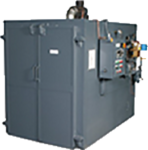 Industrial Electric Ovens – Low Temp
Our Industrial Electric Ovens are low temperature, and are designed to meet the rigorous needs of your application. Our specialists design each oven to meet your exacting standards. From concept to production we are there ever step of the way. Each oven is designed with the customer's needs in mind.
We cater to applications such as:
Food Dehydrators
Proteibn Dehydrators
Smokehouses
Steam Ovens
and much more.
What is the difference between an industrial electric ovens and a furnace?
Confusion often surrounds the difference between these two types of machines. While the terms are often interchanged by people the actuality of it is that these two devices are quite different, even though both are technically just a large fireproof devices that perform heat/treat processes.
The main differences between an oven and a furnace are:
Temperature – Ovens are lower temperature (250°F – 900°F) while Furnaces operate up to 2,000°F or higher.
Heat Distribution – Ovens create the heat in one chamber and then the heat is distributed to the heating chamber through air movement — air circulation demand is high. Furnaces directly heat the surface of the product — heat sources are modified to meet the product heat treating requirement.
Atmosphere – Ovens operate only in atmosphere, furnaces can operate in other gases.
Applications (Furnaces can operate not only in atmosphere but also in other combustible gases)
Curing – the process of hardening a polymer material, is another popular oven application.
Our Industrial Electric Ovens are:
Multi-purpose low temperature.
We offer a temperature range from 150°F to 850°F
Our units come with high volume recirculating fans
Each model is designed to provide excellent temperature uniformity
Our latches are explosion proof
Options:
Single door or Multiple Doors
Stainless Steel Interior or Aluminized steel interior
Carts as part of the design
Loading racks / Shelving