Description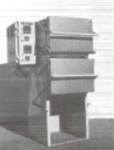 Dual Electric Furnace – Hardening Tempering Machine
InPart offers a wide range of furnaces for any heat treating application. Heat Treating Made Easy and Cost Effective!
Our Dual Electric Furnace is excellent for Hardening and tempering in two independent furnaces assembled as a single unit with a bonus room available underneath for a quench tank. "NEMA" 12 control cabinet attached to the side of the unit. The top chamber is rated for 2300°F and the bottom chamber for 1250°F. With the optional circulating fan, +/- 5°F temperature uniformity is achieved. Actual usable depth in the bottom chamber will be reduced by 3″ due to the fan. If this unit is too large for you check out InPart's Benchtop / Stand Furnace.
If you're interested in Hardening and Tempering check out Sandvik's website regarding metal hardening and tempering.
Construction
This Dual Electric Furnace – Hardening Tempering Machine is construed from heavy gauge sheet metal body, fully welded construction. The unit comes with a 304 Stainless Steel door shells. We offer your choice of brick or ceramic fiber lined chambers. Safe and secured heating elements wound inside ceramic plates for easy and speedy installation.
Options:
Our units can come with PLC controls. Please inquire.
Dual Electric Furnace – Hardening Tempering Machine Optional Features
High limit temperature controller
Inert atmosphere package for top and bottom chambers.
Concealed heating elements for special applications.
PLC control
Auto start and stop timers
Circulating fans for uniform temperatures from 200°F to 2000°F
Programmable temperature controllers
Consumable Products
Our Dual Electric Furnace – Hardening Tempering Machine consume products that must be replaced from time to time. These include:
Charcoal powder to reduce oxidation
Heat resisting gloves
Aprons
Head shields
Tongs
Crucibles
Stainless Steel foil for hardening