Description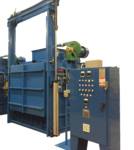 Electric Box Furnace
General
Our multi-purpose electric box furnaces have a wide range of applications, from: hardening, tempering, brazing, annealing, normalizing, wax burnout, non-ferrous treating, ceramic b isque firing, glaze, and decorating firing.
Our Electric Box Furnaces can be configured for a wide range of temperatures from 300°F to 2,800°F.
Here's what Metal Market had to say about the difference between annealing and tempering. If our Electric Box Furnace is too large we also offer Bench Top / Stand Furnaces.
Construction
Constructed from heavy gauge steel plates, which are adequately reinforced with rolled sections. The units can be designed with ceramic fiber insulation from 6″ TH to 12″ TH lining. The heating elements are available with low watt loading, in: coil, strips, rod over-bend, or silicon carbide. The hearth can be constructed out of insulating fire bricks or castable refractory. The very low temperatures on the outer shell meet OSHA regulations. We offer manual, pneumatic, or electrically operated doors. The unit's circulating fans (up to 2,000°F) ensure a +/-10°F temperature uniformity.
Optional Features
High limit temperature controller
Inert atmosphere package
Concealed heating elements for special applications
Auto start/stop timers.
Programmable temperature controllers
PLC Controls
Consumable Products
Electric Box Furnaces consume products that must be replaced from time to time. These include:
Hand gloves
Aprons
Tongs
Safety glasses
Heat sheilds